D1 Result
D2 Results
Crappie Masters Add On Results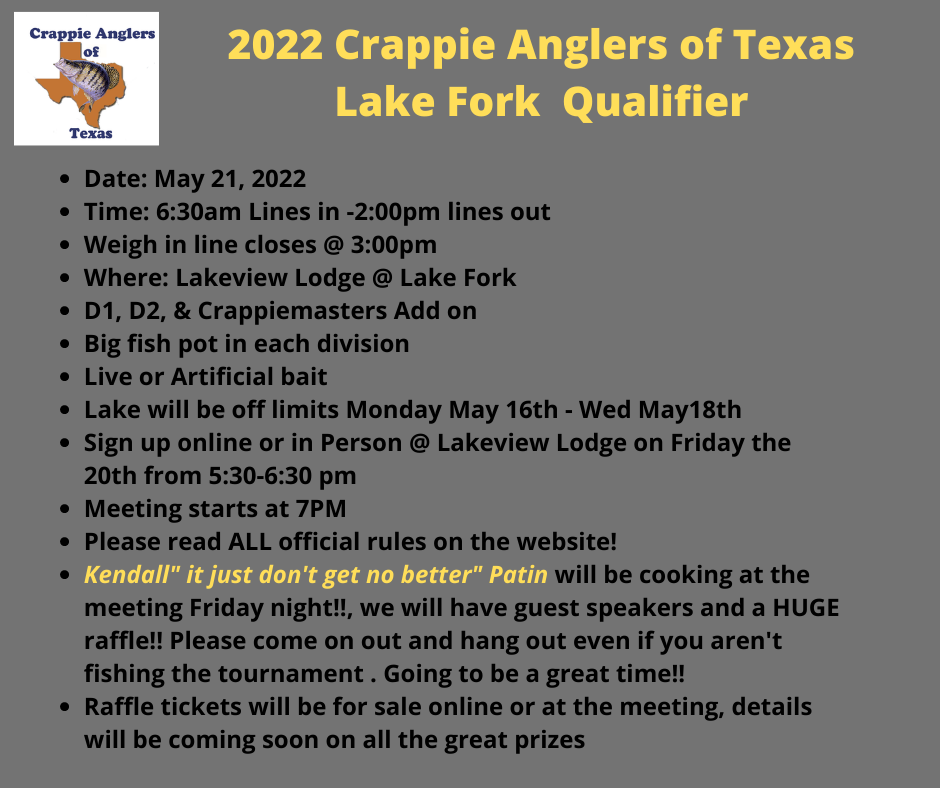 The Meeting will begin at 7pm on Friday at Lakeview Lodge.  We will have the champs Jerry Hancock and Paul O Bier and AOY Leaders Kayle Ward and Dillon Gossett as our speakers for a Q&A.
Kendall Patin will be cooking some great food for everyone!  We will take donations for the food and drinks
The raffle will begin now online and run until we do the raffle at the meeting.
LOTS of prizes in this one.  Please check it out-and consider buying some tickets.  The money is put directly back into the club, we will be adding big money to the finals this year!!!
4 Guide Trips
Jackie Wiggins Guide trip, Bubba Guide Service Guide trip (Stephan Scudder), Red line Guide Service Guide trip (Dillon Gossett), Find the Fish Guide Service Guide Trip (Jordan Sanders)
8 Rods 
2- 14′ Huckabee Flip Sticks, 1-Huckabee Epic 8, 1 Huckabee Hot Rod, 1 Lakeside Lure Sniper 13, 1 10′ ACC, 1 – 11′ ACC, 1 Bone Stix 10′,
8 Reels
8 H&H Reels (these are awesome)
2 Gift Cards
2 $100 Jenko Gift Cards
3 Mad Braid spools, Mad Graph Cleaner, Bonehead Shirts, Th Marine Hydrowave, Freaky Franks Baits, Lone Star Crappie Jigs, Bonehead Baits, Mad Crappie Jigs, Constant Pursuit Outfitter Baits, Vicious line, 2 Crappie Angler of Texas Hats w/ decal, Lt dan decals
Email clint.cat3708@gmail.com to buy tickets, please include your email.   I will send you a square invoice to pay from or you can use paypal.  I will write your name on your tickets for the raffle and send you the numbers.  It will be Facebook live if you are unable to attend.
$5 each or 5 for $20